Imagine turning on your TV to find your favorite QVC UK show, only to discover something's changed. In a surprising move, several QVC UK Presenters have been sacked. The news has shocked fans and viewers, from beloved qvc presenter sacked to entire teams of Qvc hosts Sacked.
What happened? Why were they let go? In this article, we'll delve into the details of this unexpected shakeup and explore what it means for the future of QVC UK. So, please grab a cup of tea and settle in as we unravel the story behind the headlines.
QVC UK Presenters Sacked 2023
In this section, we'll look into the news that "QVC UK Presenters Sacked." Why did this happen, and what does it mean for the channel and the presenters? Let's learn more about this big change in TV shopping.
Claire Joanna Sutton
Claire Joanna Sutton isn't just a familiar face on British TV; she's a multi-talented star. Known for her lively presence as a QVC UK presenter, she also shines as a dancer, actress, and model. But did you know she left QVC in 2020?
Born on March 25, 1967, in Leicester, Claire's career has taken her from commercials and plays to co-hosting the BBC One game show 'Takeover Bid' with the legendary Bruce Forsyth. With a net worth of $1.5 million, Claire's story is as fascinating as her on-screen charm.
Also Read: Most Disliked Host On QVC: What Audiences Really Think?
Anna Cookson
Meet Anna Cookson, a name that rings a bell in many UK homes. Why? Because she's an award-winning TV and radio presenter with a voice that's hard to forget. Anna has many talents, from hosting the breakfast show on BBC Radio Kent to lending her voice as a voiceover artist.
But that's not all! She's been a part of Radio 1, QVC, Magic, Kiss, LBC, Capital, and Heart. Remember the show Girls Talk'? That's Anna's work, and it even won her the New York Award and a nomination for a Sony Academy Award.
And if you think her talents stop at broadcasting, think again! Anna also authorized a book called 'The Sound Of Your Soul.' Isn't that fascinating?
Anthony Heywood
Have you ever heard of Anthony Heywood? He's not just a famous TV presenter; he's also an explorer and a photographer. Imagine being the Cruise Director for the launch of Disney Cruise Line! That's Anthony for you.
But wait, there's more! For a whole decade, he was a part of the QVC shopping channel. Then, in 2017, he started his own company, Stories & Light, diving into all sorts of media production. Cool, right?
And between 2018 and 2019, he even hosted shows for QVC US. His resume doesn't stop there. He's worked with HSN, The Craft Channel, Dancing with the Stars, GCM, ETV Media Group, Nation277, BBC, Challenge, and ITV Studios.
Also Read: QVC Hosts: Meet The Popular Hosts On QVC & Their Stories
Carmel Thomas
Let's talk about Carmel Thomas, a name you might recognize if you've ever watched live shopping television. With over 10 years in the business, Carmel's not just a TV presenter; she's a pro at everything from autocue and green screen to voiceovers and interviews. Impressive, right?
But what sets Carmel apart is her magic touch with live shopping. She knows how to drive sales, connect with viewers, and make brands shine. It's like she's talking right to you!
Born and raised in Dublin, Carmel moved to London in 2004 and has worked with big names like ITV1, ITV Play, UTV, Channel 5, Bid tv, Eurosport, Sky, QVC, and TJC.
Claudia Sylvester
Meet Claudia Sylvester, a woman of many talents. Can you imagine being a sports consultant, owning a jewelry and lifestyle brand, and being a television presenter all at once? That's Claudia for you!
She's not new to the spotlight. From 1994 to 2011, she was a familiar face on QVC, where she did something pretty amazing. She launched the first-ever software product to be featured on QVC in the UK. How cool is that?
But wait, there's more to her story. Right now, she's the Head of Football Partnerships at MTR7. And if you love jewelry, you might want to check out CS London, her Luxury British Jewelry & Lifestyle Brand, founded in 2010. Born on September 30, Claudia Sylvester is a name to remember.
Also Read: Former Qvc Hosts Where Are They Now: Find Out Now 2023!
Debbie Greenwood
Have you ever heard of Debbie Greenwood? She's more than just a television presenter; she's a former beauty queen who wore the crown of Miss Great Britain in 1984. Pretty amazing, right?
But Debbie's talents don't stop there. She started her TV career in 1984 with Granada Television and then moved on to the big leagues, covering Prince Andrew and Sarah Ferguson's wedding on BBC's Breakfast Time. Can you imagine being there?
Debbie's been a part of some cool shows like Streetwise, Love Me, Love Me Not, and First Class. And if you love shopping channels, you might have seen her on TV Travel Shop, Bid TV, or The Craft Channel.
But wait, did you know she's an actress too? She's been in shows like Pulaski: The TV Detective, Hello Mum, and Hold the Back Page. Born on September 16, 1959, in Liverpool, with a net worth of $7 million, Debbie Greenwood's story is as fascinating as her on-screen presence.
Michaela Hyde
Let's take a moment to talk about Michaela Hyde, a name you might remember from QVC. From January 2008 to March 2014, she was the go-to presenter for all things cozy on the QVC shopping channel. Can you picture those beautiful American quilts, handcrafted comforters, and creative cotton and microfiber quilt sets? That was Michaela's specialty!
But Michaela is more than just a former QVC presenter. She's also a voiceover artist, model, nutritionist, and YouTuber. Talk about wearing many hats!
You can now find her on YouTube, where she runs The Relationship Hub. And if that's not enough, she's also the executive director of the Marriage Foundation. Born with a flair for creativity and a passion for relationships, Michaela Hyde's story is as colorful as the quilts she once presented.
Also Read: Which Qvc Hosts Left Recently? Top 10 To Know (2023)
Jon Briggs
Have you ever heard Siri speak on an Apple device? Meet Jon Briggs, the British voice behind that famous virtual assistant! Born on January 24, 1965, Jon's not just a voiceover artist; he's also a television and radio presenter.
Imagine being there when QVC was launched in the UK in 1993. Jon was one of the hosts! And his talents don't stop there. He's worked with big names like BBC TV, BBC Radio 2, Channel 4, and BBC Radio Oxford.
You might recognize some of his shows, like The Weakest Link, Night Ride, The Weekend Wireless Show, The World at One, and The World Tonight.
Julian Ballantyne
Let's talk about Julian Ballantyne, a name synonymous with television shopping in the UK. Can you believe he's been with QVC UK for over 20 years? That makes him the longest-standing television shopping presenter around!
But Julian's not just about shopping. He's worked with almost all the major shopping channels in the UK, like Shopping Nation, The Craft Channel, LifeLine, and The Satellite Shop. He's the go-to guy for all things shopping on TV!
And guess what? Julian's also an actor. You might have seen him in shows like Conversation Piece, Motormouth, and Wish You Were Here…?
Rob Locke
Meet Rob Locke, a man of many talents. Born on October 7, 1971, in Lincoln, Lincolnshire, England, Rob's not just an actor; he's also a television host and a voiceover artist. Pretty cool, right?
Rob's journey began in 1992 when he started acting. If you were a kid back then, you might remember seeing him on several shows on the Children's Channel. He was a regular!
But Rob didn't stop there. He's been on Jimmy Kimmel Live!, You're Cut Off!, and even 2 Broke Girls. And if you've ever watched the Old Spice nature adventure, that's Rob's voice you heard as the narrator!
Kara Tritton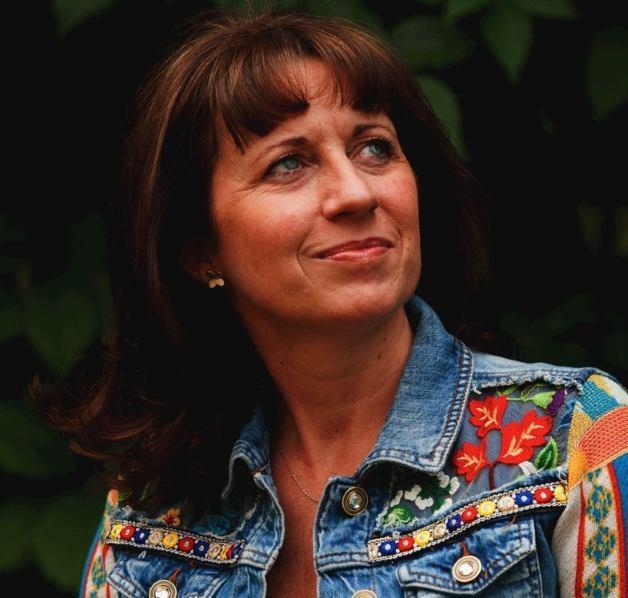 Have you ever heard of Kara Tritton? She's not just any television presenter; she's a world record holder! From 2003 to 2019, Kara held a Guinness World Record as a cartoon voice artist. Can you believe she voiced over 198 characters for Blue's Clues UK? Talk about talent!
But Kara's not just about voices. She was also one of the friendly faces on the QVC shopping channel. And if you've ever tuned into BBC radio, you might have heard her there too.
Did I mention she's a LAMDA teacher and an actor? You might have seen her in Blue's Clues and The James Whale Radio Show.
ALso Read: How Much Do QVC Hosts Make in 2023? An Insider Tip
Kathy Tayler
Let's take a journey into the world of Katherine Mary Tayler, a name that might ring a bell if you've ever watched Holiday on BBC One or Good Morning Britain. Born on March 23, 1960, Katherine's not just a television presenter; she's also a former champion modern pentathlete!
Can you imagine winning the women's modern Pentathlon World Cup at just 19? That's exactly what Katherine did in 1979. And she didn't stop there. She won gold at the Modern Pentathlon World Championships in 1981 and 1982 and even snagged a bronze medal in the individual competition.
But Katherine's talents go beyond sports. She's co-presented popular shows alongside famous names like Des Lynam, Anne Gregg, Milk Morris, and Richard Keys. And after taking a break, she returned to the screen as a presenter on QVC.
Katy John
Meet Katy John, a woman who wears many hats. She's a presenter, journalist, narrator, and even a theater artist. Can you imagine being so talented?
Katy's been the leading lady for the Stadium Theater Company, and she's appeared in many shows and plays in the UK. But that's just the beginning of her story.
At Abu Dhabi Television and Radio, she read the world news and hosted her own TV magazine program and radio slot. How cool is that?
And if you've ever watched the QVC shopping channel, you might recognize Katy as one of the former presenters. She even landed a title role in the BBC Children's TV series The SongCatcher.
But wait, there's more! Katy's been in many infomercials and adverts, and right now, she's presenting on the new Craft Channel.
Also Read: Who Is The Highest Paid Host On QVC? An Insider Tip
Paul Lavers
Let's get to know Paul Lavers, a name that might sound familiar if you've ever watched QVC UK or Anglia television. Born in 1950 in Bristol, United Kingdom, Paul's not just a British television presenter; he's also an accomplished actor.
Can you picture him on stage, performing in plays like "As You Like It," "Three Sisters," and "She Stoops to Conquer"? Or maybe you've seen him on TV in shows like "The Onedin Line" and "A Ghost Story for Christmas." Paul's acting talents are as diverse as they are impressive!
But Paul's not just about acting. He's been the face of several shopping channels and has worked as a presenter for networks like Friendly TV, OneTV, and iBuy.
Harry Greene
Have you ever tried a DIY project at home? If so, you might want to thank Harry Greene, the UK's first television DIY expert! Harry's not just any TV personality; he's a pioneer in the do-it-yourself world.
Can you believe he's written over 23 books and presented over 2,000 DIY programs? That's a lot of hammering and painting!
Harry's creativity didn't stop there. He even created and consulted on new DIY shows like DIY SOS, Changing Rooms, House Doctor, and DIY Challenge. And if you've ever watched QVC UK, you might recognize him as a regular there.
But wait, there's more! Harry's also starred in over 40 films during his acting career.
Kara Baker
Let's take a moment to meet Kara Baker, a name that might be familiar if you've ever watched QVC. But Kara's not just a former television presenter; she's also a journalist, adventurer, and a big-hearted person.
Once a journalist for Exeter Express and Echo, Kara's television experience didn't stop at QVC. She worked for Westcountry Television, The Weather Channel, CBTV, and Mad About Shopping.
But what really sets Kara apart is her spirit of adventure and compassion. When her mother was diagnosed with breast cancer, Kara and her boyfriend Nick embarked on an incredible adventure to raise funds for charity. How inspiring is that?
Steve Whatley
Have you ever heard of Steven Rae Whatley? Known by many names like the 'Gadget Man,' 'Mr. Diamonique,' 'Whatters,' and 'Mr. Zhuzh!' Steven was a one-of-a-kind British actor, journalist, and television presenter.
Joining QVC in 1993, Steven quickly became a beloved figure. With his camp and humorous style, he brought smiles to many faces. Can you imagine watching him present the "Diamonique" jewelry shows? He was so good at it that people started calling him 'Mr. Diamonique.'
Born on July 11, 1959, in Devon, UK, Steven's life was a bright and shining gem, much like the jewelry he loved to present. Sadly, he passed away on November 7, 2005, but his legacy lives on.
Final Thoughts
Did you hear about the "QVC UK Presenters Sacked" news? It's left a lot of people scratching their heads. Some favorite hosts and even whole teams have been let go. It's a big deal in TV shopping.
So, what's going on? We've looked into it, and here's what we know: Change happens, especially on TV. What this means for QVC UK's future is still a mystery. But one thing's for sure; this story isn't over yet. Keep watching!